[Repost from Discussion on Dickflash.com Male-to-Male Flashing]
like2jack asked: Is anyone into nude hiking? As in, out on actual hiking trails, for moderate-to-long distances? Would love to hear some stories & suggestions, both about free-hiking (leaving all clothes behind) and just


stripping down & packing all your clothes in your backpack, etc.

I live in Seattle, and though winter is coming, would love to find out about some good places/trails for naked hikes - would like to spend the cold months checking some suggested trails out so i can get familiar w/ them & have a good list of places to hike naked when it gets warmer (or even on less-cold winter days).

Also wondering if there's any naked hiking groups in the area? I think most people into this do it for "naturist" reasons rather than anything sexual, but would really love to find some trails i could hike long distances naked either way - it's still a total thrill for me, especially if i can be seen by others.
http://www.backpacker.com/blogs/727
Naktiv
http://www.naktiv.net/newt/index.html




Naktiv is a blend of Naked and Active - you can call it Nacktiv or Naktiv, as you please, we're very tolerant here ;-) The Naktiv hiking sign, (spelt Nacktiv for distribution in Germany/Austria/Switzerland), includes the delta symbol for several reasons:



Being naktiv can be seen as the delta of being naked and being active.
In legal shorthand the delta represents a defendant, and naktivists, while generally pacific by nature and tolerant of others, may be called upon to defend their position in many ways.
In many contexts, eg; macro, automata and medical, the delta stands for change.
The delta is an easily recognised insignia.

The Naktiv hiking sign is © Copyright Richard Foley2005-2010, and may be copied and reproduced to encourage the Naktiv idea, by any and all enthusiasts around the world - the sign has already been spotted on flickr .

NEWT Naked European Walking Tours from the Naktiv site above
In 2005 I walked naked across the European Alps starting in Germany, going through Austria, and ending in Italy. This walk, which took 5 days, is described here in the Newt 2005 article, a short version was published in the September issue of the H&E Naturist magazine, and there's an online version at Isabelle's beautiful site. Apart from being a fantastic walk, this also got me the dubious privilege of an entry in the Naked World Records database. Being the first man to cross the European Alps naked was not enough to get me into the Guiness book of records though - they are not interested in nudity - yet :-) Newt reports can also been seen elsewhere online:


A similar walk was repeated as Newt 2006, Newt 2007 and Newt 2008, with company, and the current plan is to


organise another naked alpine hike in the summer of 2009. If anyone wishes to come along, here is the current plan for the next Newt (2011), simply register your interest by sending me an email: newt.2011[at]naktiv.net. NB. This is not a private/secret nudist club walk. Please don't be motivated to come along by the photos on these pages and then complain that you don't want your photo taken - I'm not interested - anyone coming on a Newt explicitly accepts the idea that we will be taking photos of these adventures, and we will then publish them to encourage others to do likewise. Naturally we take into consideration such points as "this is my good side", "please don't do a close-up of the pimple on my nose", and similar reasonable requests. While the next route might be somewhat different, the current date and plans are:

First week in July: Sunday 3rd July -> Saturday 9th July 2011
English Deutsch Francais Dutch Italiano

Various day walks are planned, none of which will be too strenous so as to encourage lighter walkers, throughout the week, but you should still be walking fit. The route will be somewhere amongst the central European Alps, possibly using a fixed hut base, or tents. The precise plan is variable depending on circumstances, including group capabilities, weather etc.
Anyone is welcome to join for a part of a day, or for the entire walk, dressed or undressed, however their time, commitment or inclination allows. The preferred intention is to do all walks completely naked except for essential walking boots, sun hats and rucksacks. The exception to this is when going through towns and villages, when walking on made-up roads, (the unofficial but very effective tarmac rule), or when in a gasthof or restaurant. If anyone is uncertain as to dress code, or how to join in, please do not hesitate to send me an email for clarification - I/we aim to make this easy for people. Please note that this is not a protest march, this is merely a walk through a fantastic chunk of our environment with less encumbarage than most people consider necessary.
There are many people getting into naked walks, and outdoor activities of all kinds, individuals, families and


groups, from all sorts of cultural backgrounds, right across Europe and the rest of the world. See the hiking,cycling and riding links for further info.
Other Nude Hiking Sites or Groups



http://groups.yahoo.com/group/nakedhikers/

http://www.nakedyoga.net/links.html#nudist
http://www.flickr.com/photos/ronslog/ Ron's Log - a nude hiking enthusiast and photographer in Palm Springs leads various groups on naked hikes and documents the trips on his Flickr account.
http://kenfreehiker.blogspot.com
http://www.thingstodonude.com/hiking/hiking.html/

http://www.menofpalmsprings.com/hiking.htm

http://www.pssstonline.com/links.shtml

http://www.yelp.com/topic/san-diego-nude-hiking Here were some interesting and useful comments to a question about nude hiking in San Diego on Yelp.
---------------------------------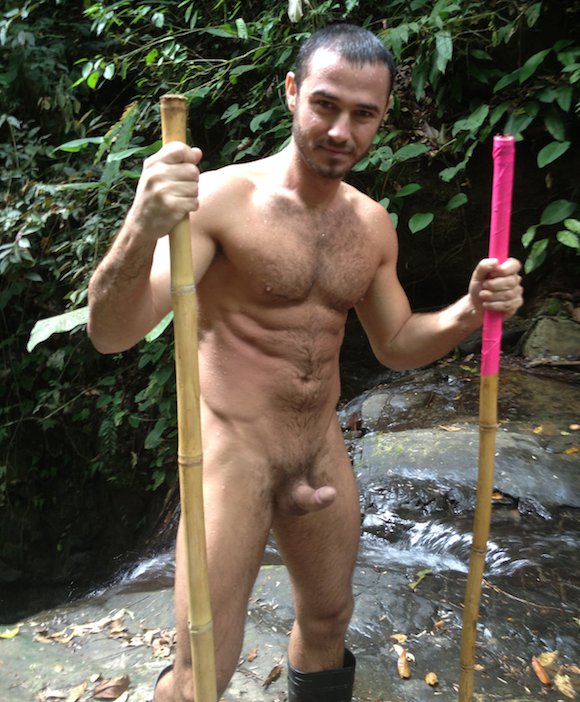 READERS COMMENTS to the article posted at http://www.backpacker.com/blogs/727
The comments below included some valuable info about nude hiking in North America and Europe - so that I


could find them again, I have reposted them below:
Freehiked Deep Creek in so. Cal. Last Friday. Two miles in and two miles out all nude. I carried my shorts and slipped them on once when I met another group on the trail, but they saw me nude before and after and really did not care. Greatest hiking experience of my life. Will do it again as soon as possible.

Posted: Sep 14, 2010 Patrick
Naked hiking can be a truly relaxing experience, soaking up the rays, enjoying either a lonesome or a companiable time amongst nature's many places. To see what we're talking about, take a look at this regular event: http://www.naktiv.net/newt/index.html The important thing, if you're a little uncertain, is to just relax and consider trying it out sometime :-)

Rich.
Posted: Jul 17, 2010 Richard Foley (richinud)
summertime desert hiking is the best. no one anywhere. after the first few miles you forget about the fact that you are naked.
Posted: Jun 13, 2010 rocketmancub
I write this while relaxing nude, after a skinny dip, In a remote area by a river. Most rivers create natural sand beaches by their banks, so it is like thebeach, but isolated and free of onlookers and or gawkers. Mud baths by these riverbanks are invigorating, then making the skinny dip more exhilirating!! Try it u will like it!!
Posted: Apr 08, 2010 Swimbikesail
My wife and I love to go hiking nude in the Palm Springs area.
Posted: Nov 17, 2009 Rich
Dude, I have no problem what-so-ever with "Hiking In The Buff" It's too bad that folks in the countryside are like this the world over, when it comes to being a tad bit anal to the offbeat!
Posted: Sep 05, 2009 narutofightindreamer
Every time I go for a freehike I'm more and more convinced of how enjoyable and good and right and wonderfully beneficial naturism, and especially naked hiking, is for my life.
All are welcome to visit my naked hiking blog at http://kenfreehiker.blogspot.com
Posted: Aug 06, 2009 Ken Freehiker
Sunscreen, bug repellant do you laterh it all over?
Posted: Jun 28, 2009 Curious and a bit repulsed
Just hiked Green Mountain trail nude (shorts in hand to cover genitals in case I ran into anyone, which I didn't) 1.5hrs on the trail, FABULOUS!!!!
Posted: Jun 19, 2009 Port
There are a few naked hiking groups at Yahoo for interested guys. NOT sex, but "freehiking." Email me if

interested, especially if in Palm Springs or Phoenix. TAKE CARE, HIKE BARE! -Budd
Posted: Apr 14, 2009

NakedBudd5@yahoo.com
I've hiked naked a number of times and it is an awesome feeling! Try it, you'll like it! And it is even better if you can find a place to skinny-dip while you're hiking naked.
P.S. Don't knock it until you've tried it. You don't know what you are missing!
Posted: Mar 31, 2009 Naked Boy
I have hiked nude in Yosemite National Park and it was great. I found a small waterfall and got in. Something I have always wanted to do. The sun on my body and the cold water was so fantastic. Just below the falls the water pooled and I was able to soak up the experience. I hike nude whenever the opportunity comes up.
Posted: Mar 29, 2009 John
I have hiked and mountain biked nude on a few occassions and look forward to the opportunity to do it again. My favorite is hiking in the rain. The feeling of the cool random raindrops is unlike any other. After shedding the clothing, it's not long before it feels completely normal. The worse thing about the entire experience is knowing it has to end. I dread that time of having to get dressed.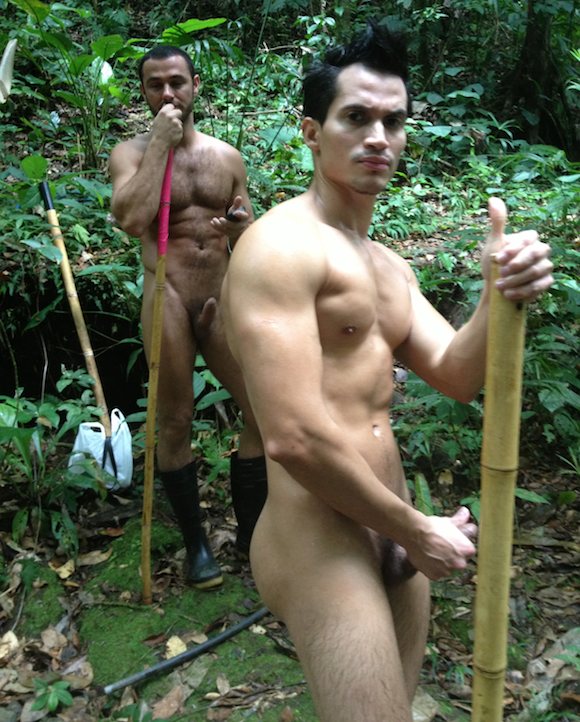 Posted: Mar 25, 2009 jcg
There is hardly anything that compares to the feeling of being naked. Most of the time when I am naked in nature it will be when I am alone. I do prefer company, but do not find myself in an environment where it is easy to make contact with others who also prefer going naked. Wearing clothes just feels tireing after you have experienced what it feels like going around naked. I would be walking somewhere and suddenly realize that the opportunity to go naked exists and just strip there and then. Enjoy your freedom!
Posted: Mar 19, 2009 Ralph
Bummer. Nude hiking is freedom and the ultimate way to experience nature.
Posted: Mar 02, 2009 john
I enjoy hiking in the nude, free and feel whole with Nature, the Earth and the Sky. Its an overwhelming feeling of Joy. Having to do this in secret, almost hiding, does not feel right at all to me, but our Society has not understood that yet. I wish i knew more of those places where I could hike freely without meeting any clothes hikers or rangers.
Posted: Feb 28, 2009 nudist in Palm Springs
I spent two days hiking nude in a California State Park. The only person I saw was a ranger that drove by on a backroad, he just waved and kept going. Good thing he didn't ask me to put my shorts back on, I didn't realize I had accidentally dropped them a couple miles back. Oops! Found them on the way out the next day. A nude hike to a backcountry lake for a swim is the only way to go!
Posted: Feb 18, 2009 Anonymous
Been freehiking for a couple of years. Nothing more enjoyable than the freedom of enjoying the great outdoors with nothing inhibiting all the sensations the environment has to offer. The fact that I have also lost 30lbs is a bonus. (not including the clothes:) I highly recommend it to all hiking enthusiasts.
Posted: Feb 17, 2009 ddoger
There is a great nude hike in Southern California to Deep Creek Hot Springs. It's about 2 miles from the parking lot to the hot springs, and you can do all of it nude, then soak in the hot springs. For a full report check out Things To Do Nude which has page on Deep Creek with directions.
Posted: Feb 15, 2009 Dan
Freehiking is great. I don't mind hiking clothed if its cold; but if it is warm, the clothing has to go!