[ This entry was also posted one of my other blogs: Otoko - The Japanese Male and on my Tribe and JustUsBoys blogs. The reason for that is because nowadays I never know when my blog and my user id will be deleted without warning. Yahoo! is infamous for doing so, but I've recognized recently that Google may being trying to 'clean up' its own house - soto speak. Dozens (that I know) of amateur 'monetized' blogs with explicit sexual gay content have disappeared from Blogspot in the last few weeks.]
Some of these photos of Japanese men emerge from a hot springs (mineral baths) or 'onsen' were highlighted on QueerClick not long ago. I can't resist showing them again. It's just THE Japanese thing to do - and seems to be especially popular with groups of male college friends, intramural sports teams, or company excursions.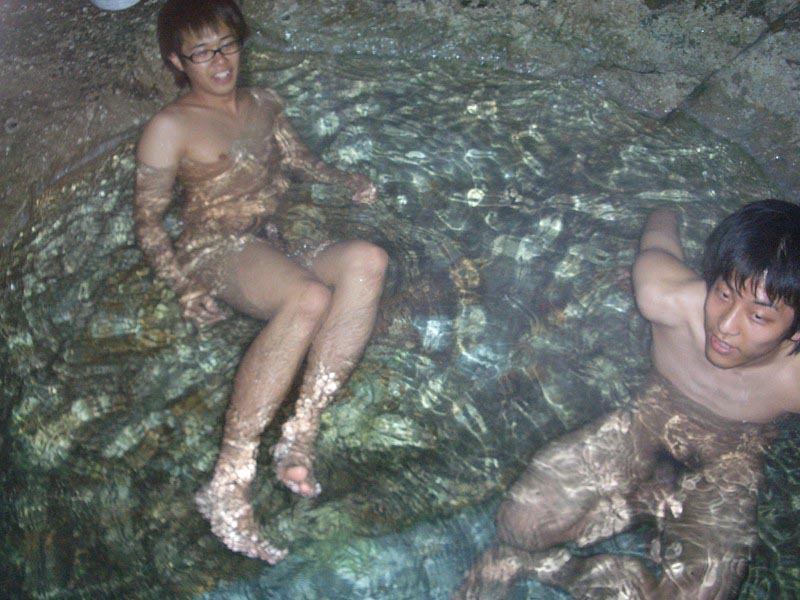 They're all wearing the traditional 'yukata' - thin, cotton kimono-like coat - with (hopefully) nothing on underneath. When the alcohol, good food and camaraderie take effect, they start dancing (handstands, etc), and then everybody heads down to the communal baths in the resorts - usually
Japanese men are horny a whole lot of the time and - in my opinion - the repressive nature of their society actually only deepens and heightens the sexual tensions for the average company worker. The stress of so many social and work responsibilities is sometimes almost too much to bear: 'fetch this' and 'do this now' is the only thing workers hear all day and half the night since they almost always work overtime for NO (or little) pay.
The trips to the onsen (hot spring resorts) and the pub crawls after working later are rather like R & R for the troops in an army that's on dangerous duty. This was (and still is in some cases) the Civilian Military - (Japan Incorportated) because that was exactly how the typical Japanese factory or company used to operate. The new ones were the recruits -- called upon to have to endure all kinds of hardships (workign 12-16 hour days for example was expected), so these 'trips' were probably a natural way to help relieve a lot of stress.. some of it under the belt line - so to speak.
There is no doubt in my mind that many a young company employee (male or perhaps more so the females) was 'defrocked' while on one of these onsen (hot springs) excursions organized by his (her) company or social group.
The situation has ameliorated to some extent. It is not easy to determine how much though. Japan still has the highest rates of suicide of any industrialized (first world) nation, and the numbers continue to swell. Over 30,000 per year end their lives and by estimates, nearly 4 times as many try to do so.
Japan has a massive social networking infrastructure long, long before the days of the Internet - or Facebook. I could write a book on this and related topics... but - in reality - much of it is coming to an end. Today's young people do not want to participate to the same degree as before. The number of 'freeters' - young people who refuse to get a full-time job, who often still live at home on their parents' dime, and are content with having little money - but lots of freedom and tons of free time to work part-time at as many as 3 jobs, quit when they get tired of one, go out with friends to sing karaoke or drink or just hang out, and play PS3 games or windowshop all night long.
More to follow (eventually.....)