What to do on a short trip to Tokyo
Wesley wrote recently: "I will be traveling to Tokyo in May and would love to get some helpful tidbits about the city for a gay man traveling alone. I will be there only for five days. What hotels do you suggest, bars/clubs, restaurants, must see sites, etc."
My response is below.
You can start with this list of links -- some other are available from Cruisingforsex.com
http://www.cruisingforsex.com
Then try to meet up with someone there before you go - to show you around and help you navigate. There are sites like: Gay Network Japan
http://gnj.jp
I have not covered it all and probably cannot do the city justice - -but here is a start:
http://listings.cruisingforsex.com/cfs/index.php
If the URL does not work, then go to
http://www.cruisingforsex.com/
Enter the site and then look for Sex Listings (then choose Metro Area Other Areas, Japan, Tokyo.)
Tokyo Visitors Bureau home page.
http://www.tcvb.or.jp/en/index_en.htm
Tokyo Tourism Info
http://www.tourism.metro.tokyo.jp/english/menu_siru.html
Gay Baths, Gay cruising spots
(see CFS link above for more)
My favorite gay baths in Tokyo is 24-Kaikan in Shinjuku (between Shinjuku 3-chome and Shinjuku Gyoen-mae subway stations. (probably different than what I wrote about in 2003).
Actually, there are 4 different locations for this sauna (gay baths). The Shinjuku 2 chome branch is the nicest one and there are plenty of different types of guys (younger than some of the others) and also foreigners too.
24 Kaikan Bathhouse, Shinjuku 2-13-1, Tokyo. 3354-2424. Bathhouse with full facilities. Open 24 hours.
http://www.juno.dti.ne.jp/~kazuo24/english/english.htm
(There is also a 24-Kaikan Bathhouse (gay sauna) at Asakusa - just behind the Asakusa Kannon Temple grounds.
Sanja Matsuri
(Asakusa Temple Festival - May 19-21 or thereabouts) This temple has one of the largest festivals in Tokyo -- this year on May 19-21 - begins on the temple grounds on Friday and then the floats are carried by men (almost nude in
fundoshi
(loincloths) through the streets of the neighboring communities until the 100 floats are paraded (hoisted in rhythm thrusts -- exotic and erotic too) back to the Temple on Sunday afternoon. It is a good chance to see a lot of sweaty Japanese men (some like the photos here) - they (and the spectators) like to get drunk too so you're sure to see some pranks, some naked butts and male bonding during the festivities. Great photo opp too.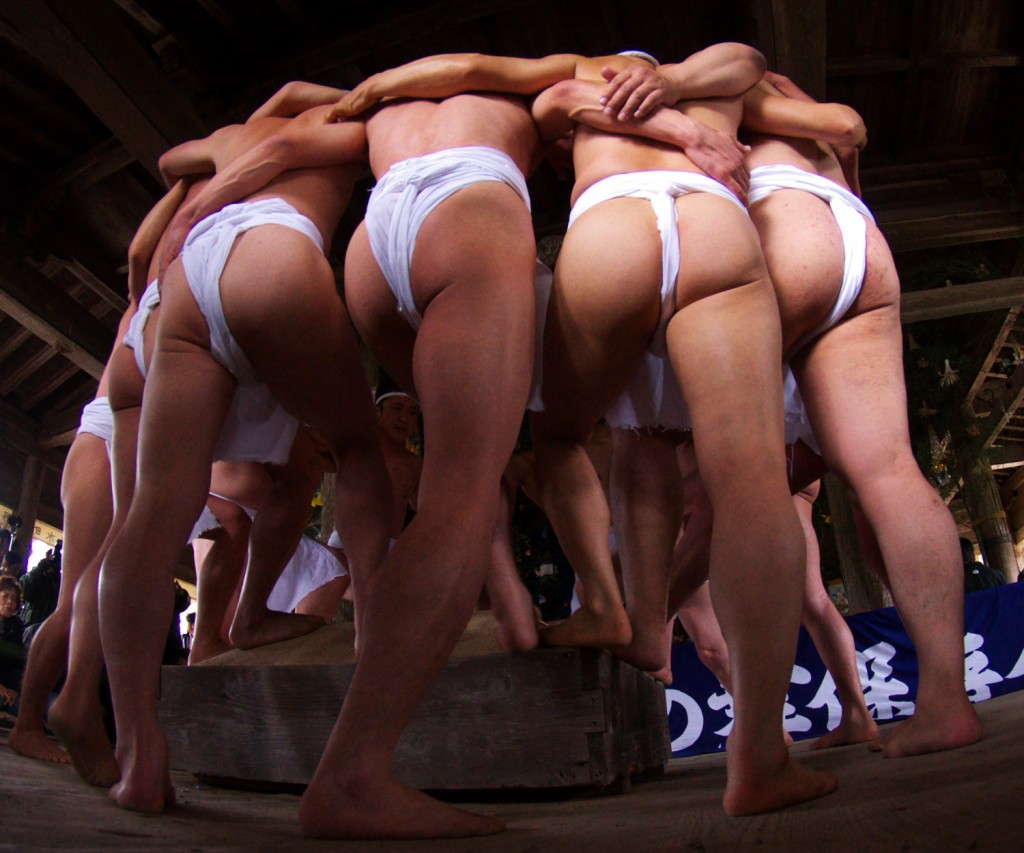 Shinjuku 24-Kaikan (baths) It seems that there is no map on the English site to the Shinjuku
http://www.juno.dti.ne.jp/~kazuo24/map/map-shinjyuku.htm
Located just off of Shinjuku Dori (turn left just at Lawson's in Shinujuku 2-chome,
2-chome is about a 10-minute walk, go right out of Shinjuku JR Staion East (a main street level exit) and you will be on Shinjuku Dori. Follow passed Mitsukoshi and Marui Department Stores on your right and Isetan Dept Store on your left. Keep going passed two main intersection (one is Meiji-dori) and look for Lawson's on your left, turn left toward Shinjuku Park, 24-Kaikan is down on the left, at the second intersection (steps lead up to 2F entrance (entrance is visible from the street), car park is on ground floor.
A comment from CFS:
This is a wonderful place and not intimidating for gaijin. The sauna is easy to find, as it's near the Buddhist temple in Two-chome and not far from the Shinjuku garden. On maps you can see the inverted swastika for the Buddhist temple, and just remember that the Buddha is looking over the buildings at the sauna. Go up the outside stairs. Upon entry have a ten yen coin ready. You will take off your shoes at the top of the stairs, put in your ten yen, and take the key. Then to your left will be a ticket machine. Put in bills or coins for 2600 yen if you just want a locker and press the lit-up 2600 yen button. A ticket and change will come out. Take the ticket and your shoe locker key to the attendant who will take those from you and give you a new clothes locker key and a bag with two towels and a robe. They ask you for your name but don't check ID.
Bring condoms if you engage in hot sex. I was surprised that two Japanese guys wanted to engage in unprotected sex with me. You can have a lot of fun here - several levels - bath at the faucets before getting into the hot baths, sauna and dark rooms (very clean), also dry, wet and steam saunas. Enjoy safely.
=======================
About sightseeing in Tokyo
-- any good guidebook or LonelyPlanet (online site) will have a list of the main sightseeing spots. I have included a few of the most famous ones here.
Asakusa Temple
Asakusa (old town with quaint shops, canals) - You can take a boat (passenger boat-bus) down the Sumida River (near the Asakusa Kannon Temple (largest in Tokyo) - get off at Takeshisanbashi, you can take boat-bus (a ferry) to Odaiba (manmade beach or also take the Yurikamome Train across the Tokyo Rainbow Bridge to Odaiba Marine Park (Fuji TV Station HQ is an interesting building to explore)
Shopping in Akihabara -- electronics town
Shinjuku - kind of metro 'center' but also not far from the 'gay' section - Shinjuku 2-chome (in fact you'll pass 2-chome Street a block before Lawson's (24H convenience store) on Shinjuku-dori.
By the way, a great out-of-town trip is Nikko -- there is a train from Asakusa Station (slower but less expensive than a bullet train (shinkansen). If you have a full day to spend for a day-trip out of Tokyo - -I recommend Nikko or if you might take a bus/guided tour of a hot springs resort (Hakone - out towards Mt. Fuji is one of the most popular) and you can do it in a day - but don't expect to get laid - although you may get to bathe (nude or semi-nude) with a group of men (probably older Japanese and curious foreigners).
Kabuki Theatre is a fun experience -- you can buy ticket for short performances and rent a English-narration player to help you enjoy. Full performances last hours and cost a lot, but there are short session performances (last 30-45 minutes) costing $8-10. Shows runs from 11:00am -9:00pm -- so it's a great way to squeeze in some culture between meals, sightseeing and cruising the baths .
Kabuki-za is located in Ginza and there is an English website:
ttp://www.shochiku.co.jp/play/kabukiza/theater/
Meiji Shrine (near Harajuku Station (2 stops from Shinjuku on JR Yamate Line (Green Circular line) is a nice place for outdoor stroll in the gardens. Next door is Yoyogi Park -- where some cruising goes on .
Hibiya Park between Yurakucho (JR Yamate) Hibiya/Ginza stations (subway) and also Kasumigaseki Station (subway) is pretty cruisy -- especially the toilet just near the corner of th park - not far from the Imperial Hotel.
The Imperial Palace and the stroll around the moat can be nice. (not far from Hibiya Park a 10 walk)
It is too hard to tell you where to eat -- you almost can't go wrong because you can usually check out the menu (realistic plastic dishes and prices are displayed in the shop window or the menu (with pics) is posted. No tipping is needed in Japan.
However, be aware that in the gay section (or some 'gangster' type places) if there is no menu and no prices, ask before ordering. It is pretty rare nowadays but not completely unheard of being asked to pay 5 or more times the price for a glass of beer or some simple appetizers (if some shady -- backroom- establishments).
Lunch - by far - is your best for getting more for your money -- typically the same item ordered at night cost 1.5-3 times more (except at family-type restaurants / fastfood). Many places have lunch specials so I recommend eating well at lunch and then going light at night -- except when you want to splurge.
Well... hope this helps. If you have specific questions, I may be able to answer them.
By the way, I don't think it matters that you are African-American -- it some ways it may be as attractive to Japanese men as any other kind of foreigner. Japanese are respectful and polite -- but don't take their shyness or backwards for something it is not (although you are probably all too aware that ignorance can show its ugly face in almost every society). Prejudice is no more prevalent in Japan than other places and in fact may actually be less -- Japanese tend to be less assertive and easily intimidated so foreigners and visitors may sometimes mistake their timidity for an attitude that is not really there.
Have fun and I know you will enjoy the visit.